From all the rave reviews we've received this year, it seems like one of the highlights of Destin beach vacations is a cruise on the SunVenture. With its versatile open air arrangement, the SunVenture offers so many ways to have fun on the water. A great alternative to the larger Destin cruises, the SunVenture offers a more personal, relaxed setting for families and friends.
Here are the top 5 ways to enjoy a SunVenture cruise:
1. Crab Island – We are cruising twice daily to one of the most unique water experiences. Ranging in depths from 2 to 10 feet, the underwater sandbar known as Crab Island is the place where everyone anchors their boats and spends a day in the waist-deep emerald green waters. With picturesque views of the Destin bridge, Crab Island offers everything from live music and water slides to floating food vendors, paddle boarding and relaxing in the water.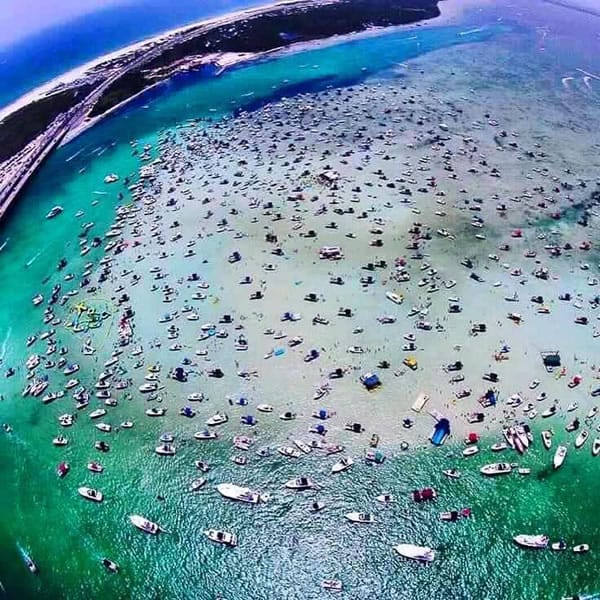 Pack a cooler and jump aboard as our Coast-Guard licensed captains take you for a narrated tour of the harbor and drop anchor at Crab Island. The boat stays with you the entire time, offers a restroom on-board and is much cheaper and convenient then renting your own boat.
Here's a June 2016 review: ""Crab Island was absolutely beautiful and there was so much to do! The boat was great and the crew was very friendly and very funny. They kept you entertained! Once you arrive, you get off the boat and just walk or swim around. The waters are waist deep and you can walk around to different activities such as jet skis, paddleboards, kayaks, banana boats, etc. There are different restaurants to eat from and also a big inflatable playground. It was so much fun for myself and the children. Thanks Sunventure 1!!!"
2. Sunset Dolphin Cruises – It doesn't get much better than cruising into the sunset as dolphins are frolicking from the emerald green waters of Destin Florida. We're cruising every evening at 6:30 pm with our Captains Larry and Joe whose goal is to keep you laughing and entertained throughout the cruise.
Here's a July 2016 review: "We joined Captain Larry and Joe out for the 10am Crab Island cruise. The guys were so much fun and Crab Island was a blast. We enjoyed the trip so much that we decided to book the 2pm cruise and the dolphin sunset cruise for the same day. We saw a ton of dolphins on the evening cruise and one came right up next to the boat. I would highly recommend Sunventure I for any of their cruises. Larry and Joe made our day on the water. They are great guys and tons of fun."
"This was our last adventure during our vacation there and we enjoyed the sunset cruise very much. We were able to see four dolphins and the sunset was beautiful. Grant and the captain (I feel bad for forgetting his name) made it fun and had a great sense of humor adding to the enjoyment. We were glad to be on this boat and not the overly crowded boats so we could still fully enjoy the beauty without the feel of a booze cruise. Thanks for making our trip to Destin, Florida memorable!"
3. Fireworks Adult Cruises – who says fireworks are just for holidays? In Destin, you can enjoy the Fireworks every Thursday night from the Destin Harbor. Life is all about family but if you're looking for a break, then consider our adults only Fireworks Cruises.
Here's a July 2016 review: "We have been on several sunset cruises, but, this fourth of July sunset/fireworks was absolutely the BEST!!!  Larry and Joe were funny, knowledgeable, and just overall fun.  While we didn't know what to expect it did not disappoint.  We will definitely be back aboard and if you are looking for fun-check this out. You won't be sorry!"
4. Birthdays – Destin cruises are the ultimate way to celebrate any occasion – from birthdays to bachelor / bachelorette parties or family reunions. Our captains can take you to Crab Island, a sunset dolphin cruise or anything else you are interested in. We also have event planners and food catering options.
Here's a July 2016 review: "The SunVenture captain and crew was amazing. This was my first time to destin and crab island. The trip was for my birthday and it was the best time ever. I can not wait to go back. This is a must for all ages to try at least once. Very kid and adult friendly place to go."
5. Private cruises– We can arrange for private cruises year-round, any day of the week, any time for any occasion. Boating is all about having fun in the sun and water. So why would you want to worry about fueling up the boat and driving while you watch your friends have fun? The SunVenture offers the best of both worlds…a private boat that our Coast Guard-licensed captains will drive so you can enjoy a worry-free day of fun in the sun.
The SunVenture I is perfect for Destin private cruises and boat rentals for up to 49 guests. The 45-foot Catamaran features a state-of-the-art sound system and the open deck arrangement is great for relaxing in the sun or dancing under the stars.
""Our sunset cruise on the Sunventure was a wonderful time. The boat is painted in such awesome underwater scenes and the crew was so nice. Definitely doing this again when we come back into town!"
View our daily Destin cruises schedule for Crab Island, Destin Harbor Fireworks and Sunset Dolphin Cruise times. See ya on the water.