What a great way to kick off summer with an award based on our guests' reviews. There's nothing more coveted than an award earned directly due to the reviews your guests have taken the time to leave. SunVenture Cruises is the proud recipient of the 2017 People Love Us on Yelp award – based on the numerous 5 star reviews left by our guests.
Here is what our guests had to say:
Brittany, Magnolia TX: "Great time with Larry and Mark. Entertaining and nice people. Great time and worth the money to get to crab island. Short ride over so it was great."
Marco, Magnolia TX: "Went out with Grant and Larry to Crab Island in Destin. The guys were great and took us straight to Crab Island and anchored us down right next to the best burger spot in the area. We got to play volleyball there and listen to the DJ at the same burger place – they also have live music at Crab Island. The water was amazing and we got to swim and show the kiddos some hermit crabs that were walking along the ocean floor. Words of advice for others, bring your own drinks; alcohol, sodas, waters, etc. Bring your own floats, etc or you can rent from the guys or rent jet skis from near by vendors. You can also bring your own food as well if you would like or you can purchase chips and drinks from the boat for $2 a piece or buy a burger or other food from other floating vendors. Tipping the guys is encouraged as they do an awesome job and will hand you whatever you need and be your personal waiters as well as inflate your floats. Thanks again Grant and Larry!!"
Krystalynn, New Orleans: "Had a great time with Grant and Larry. They tell you it takes 25 mins to get to crab island but it only takes 5-10. If you bring floaties they'll inflate them for you. Also, bring cash to tip and for other rentals the have (jet skis, paddle board, kayak) and food. Bring your own alcohol!"
Kara, Circleville, OH: "We took the 2pm excursion to Crab Island on the Sunventure I. We had a blast! Captain Larry and Joe are the best! They are tons of fun and they provided excellent service. We will definitely book another Destin cruise trip with them next time we come to Destin."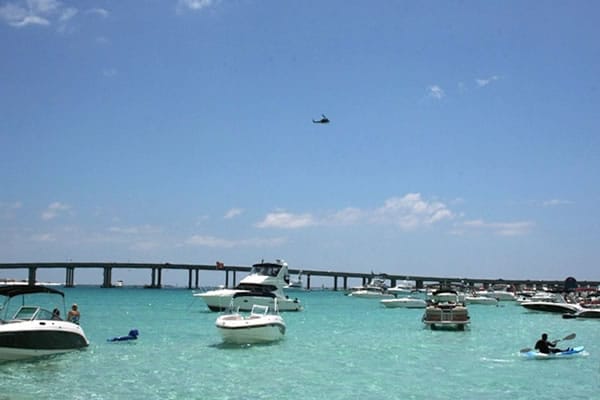 Ande, Scott Depot, WV: "The guys on the boat were great. They were funny and eager to help you with anything. Bring your own alcohol. It is allowed, and if not the margaritas are $15.00. The guys from the boat will even give you your beer/fill your cup so you don't have to climb up and down. They were great.
The water at Crab Island was perfectly clear and this was probably our favorite day of our whole vacation. We will definitely do this again when we return to Destin, maybe even more than once.
I definitely recommend this to anyone looking into it. Take a float and you will have a blast."
Book with us today and experience it for yourself.